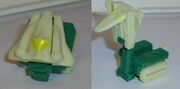 Headrobots
is a third party company focusing mainly on replacement heads and accessories for figures.
Their first product was "Cobra", a stand-alone head which fits on G1 Headmaster bodies. "Cobra" was based on original Takara design sketches for unproduced Headmaster Warriors. The initial release came in two color variants, which contain slight mold differences and have small differences on their backing cards:
- Normal green version.
- Grey pre-production version.
Two variant cards were also made available at the same time: One based on Joustra's European Diaclone line, and the other based on Kabaya's Transformers Parody Deformed model kit line.
Three limited run exclusives were later produced, which include an extra dual-cannon piece that doubles as a cannon in animal mode and a hand-held gun in head/robot mode:
- "Nightrider": A Black Zarak and Knight Rider-themed red, black, and yellow version. This version was intended for the Japanese market, but was also distributed in the US by Hydra. 200 produced.
- "Snake": "Cobra Commander"-themed blue, black, and silver version. The bio indicates it is based on his appearance in the Transformer's episode "Only Human". 300 produced.
- "Crystal Cobra": Clear red version for MegaToyFan, sold exclusively at their booth at Botcon 2010. 300 produced.
At the time of this writing, they have shown prototypes or early renderings of several additional products which have not yet been released:
- "Iguana", another unproduced Headmaster Warrior, like Cobra.
- "Hothead", a replacement head and weapons pack for Universe Wal-Mart exclusive Hardhead, also featuring compatibility with G1 Hardhead.
- "Blood" and "Gyro", replacement heads and additional weapons/accessories for the Revenge of the Fallen Bludgeon/Whirl Toys R Us exclusive 2-pack.
External links
Edit
Community content is available under
CC-BY-SA
unless otherwise noted.