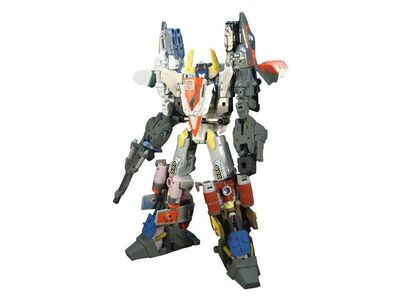 The Aerial Team Appendage Add-On Kit is a product of FansProject, for the energon superion mold
The Add-On Kit Supplies Superion with all new arms, feet, and gun for the combiner. When the components are in vehicle mode, the feet form jet boosters, and a radar dish, while the arms also form jet boosters. The gun and feet boosters go on silverbolt, the arm bosters go on air razor or air raid, and the radar dish goes on skydive or fireflight. This kit is meant to go with the target exclusive version of the mold, but it can also work with any other.
Community content is available under
CC-BY-SA
unless otherwise noted.